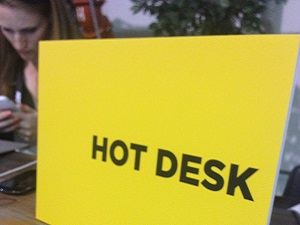 Cleverco is a successful accountancy firm with offices in London and Manchester, both with about 150 people. Looking around the London office, Stephen Tomkins, the Head of Facilities and Estates, sees many empty workstations.
Cleverco's a fairly traditional firm, but even so there has been an increase in flexible working over the last few years, by both new and long-standing employees. Stephen reckons that this gives an opportunity for demonstrating his effectiveness to the Board, by moving Cleverco to workstation-sharing and reducing the number of workstations, with savings in rent and overhead costs. Lots of other firms have done the same, so Stephen doesn't think he's taking a big risk. The number 0.8 is in the air – the ratio between the number of workstations and the number of employees. He instructs his premises managers in London and Manchester to move to workstation sharing on a ratio of 0.8.
Justin Temple, the premises manager in London, moves decisively. He instructs commercial agents to find a sub-tenant for a part of the office with 30 workstations (0.2 x 150 employees). The remaining 120 workstations (0.8 x 150 employees) are unchanged, but because Justin accepts the conventional assumption that workstation-sharing requires hot-desking, he buys a licence for OTT Corporation software which requires employees to log in before they come to the office and assigns them a workstation. The employees, who had previously 'owned' a workstation, are told to clear all their possessions and given a locker instead. Each time they log in, the OTT system tells them to go to a different workstation. The system can be queried to ask whether colleagues are in the office, and if so where – not quite as convenient as looking around for familiar faces in familiar places, as in the old days.
The new system works, as Justin promptly tells Stephen Tomkins. Despite workstation sharing it never happens that more people come to the office than there are workstations available. But the changes are not popular and the take-up of flexible working increases. This curtails the pressure on workstations and lowers workstation utilisation, which does not show the 20% uplift which was expected with workstation-sharing.
Mary Schneider, the premises manager in Manchester, gives Stephen Tomkins' request a bit more thought before acting. She has picked up lots of signals that people don't like hot-desking if it involves being sent to a different location every time you come into the office, with unfamiliar neighbours. Employee alienation caused by this kind of hot-desking would be a negative feature of the move to workplace-sharing, clawing back some (or all?) of the benefit from reduced premises costs.
As well as hostility to hot-desking, Mary has noticed a workstation sharing paradox – when she visits offices that have moved to workstation sharing, it very common to see employees regularly using the same workstations, not moving between workstations. When she asks premises managers about this, she's told that the employees haven't yet adapted to the culture workstation sharing, but when they get the message they'll be more mobile. But Mary's not entirely convinced – why would they move around more?
Maria decides to ask one of the company's analysts, Kevin Butcher, to investigate. A few times she's seen how much he enjoys counter-intuitive results so she thinks this puzzle will appeal to him, even though (or perhaps because) it's not the sort of analysis he usually works on. Kevin goes though the problem with Maria and decides to build a simulation model of employee attendance at the office and their choice of workstation.
First, Maria lets Kevin see the data from the swipecard-controlled access control gates at the office entrance. The data is anonymised, but Kevin can see the day-to-day variation in the number of people coming to the office, and the proportions of employees who attend frequently or occasionally. For the simulation model he creates 150 token employees with the same attendance profile [illustrate].
Next, following Maria's observation about employees' regular use of the same workstation, he assigns each token employee a preferred workstation out of the 120 available. This is the workstation the employees choose every time they come to the office ­– unless it's already being used by someone else, which has to be a risk with workstation sharing. How severe is the risk?
It's time to run the simulation model. On a simulated working day the model first decides which of the 150 token employees will come to the office, selected randomly but based on their attendance profiles. Then each selected employee is assigned to the preferred workstation unless it's already taken, in which case they are assigned to an alternative, non-preferred workstation. This exercise is carried out for many simulated working days, giving the average of successes (employees getting their preferred workstation) and failures (employees having to use a non-preferred workstation). over many scenarios there is a 96% success rate, or put another way a 4% risk of failure – despite the 0.8 workstation sharing ratio. The simulation shows that workstation sharing and workstation preferences are compatible, contrary to the conventional wisdom.
Kevin is gratified that the simulation model produced a counter-intuitive result, and Maria is delighted with the implications for workplace management. Like Justin in London she appoints commercial agents to find a sub-tenant for 20% of the floorspace, but unlike Justin she doesn't buy hot-desking software, but sets up change management workshops. She tells employees that the Manchester office is moving to workstation sharing to strengthen Cleverco's competitiveness (and hence their job security), bur they can still have a preferred workstation – although they must occasionally be prepared to use an alterative workstation, maybe about once a month. With this reassurance the employees' anxiety about workstation sharing and dread of hot-desking is overcome.
By asking questions and studying their implications with the simulation study, Maria gets a better outcome in the Manchester than Justin, who pushed ahead with industry-standard solutions in London. Maria can show Stephen Tomkins that her simulation studies of workstation-sharing were crucial in delivering greater employee satisfaction, eliminating the cost of hot-desking software, and avoiding a drop-off in attendance and utilisation.
Stephen Tomkins is impressed.